'Noma' is a
two Michelin star
restaurant run by chef
René Redzepi
in
Copenhagen
,
Denmark
. The name is an acronym of the two
Danish
words "nordisk" (Nordic) and "mad" (food), the restaurant is known for its reinvention and interpretation of the Nordic Cuisine. In 2010, it was ranked as the
Best Restaurant in the World
by

Restaurant

.
Citation :
http://en.wikipedia.org/wiki/Noma_(restaurant
)
'S' was watching an documentary about 'Noma' in television and he started researching about Noma in internet. For couple of weeks his talk of the period was about the michelin stars and different restaurant and how 'Noma' stand different from the other restraurants. I too was watching the amount of effort, care and affection they pay for each and every dish and each and every plate they present in from of the guests. The main attraction about them is they prepare everything from the regional food... They prepare food from the fresh and local produce. Each and everything(except wine) is hand picked from the local farm land or forest or local ponds. He also told me an interesting story about Noma that when the temperature went to minus degrees and there was nothing they can find to cook, they went on hunting in the deep water digging the ice to get some fishes for making food.
Check out some of these images from Noma..,
Parfait of pickled elder flower, violet ice cream, rose-hip meringue and thyme gel at Noma.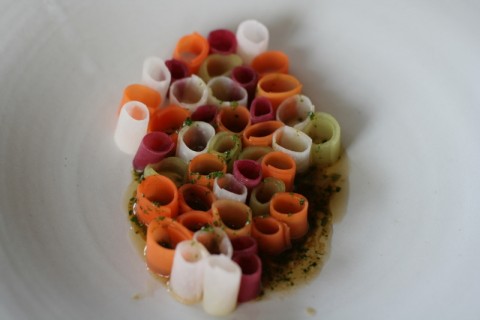 Crudité of carrots, beet roots, cucumber, kohlrabi and a chicken stock at Noma
Verygoodfood.dk has a very nice post about Noma... Check the link above.
So.. now let us come to his fantasy...
Looking at this he was telling me that he want to start a restaurant like this in Kanyakumari District in India, which uses same kind of concept... But, the only difference is traditional food from local produce. Traditional food of our area are Kampankool (horse gram soup), Kezhvaragu kali (Raagi Pudding) and more delicacies, like this...
More of his Noma fantasies to come up in following days...
Ok... more to be added when he talks about his next fantasy..
HHN